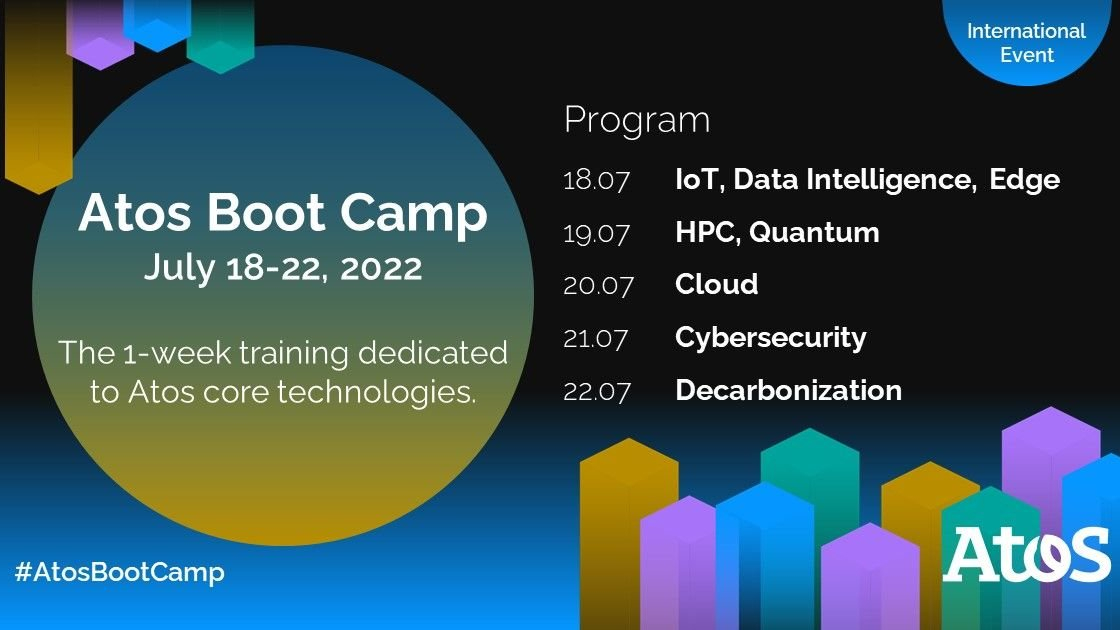 Compania Atos, no 1 Worldwide Managed Security Services (Gartner), organizeaza un Boot Camp virtual la nivel international in perioada 18-22 iulie 2022. Este un eveniment gratuit, adresat studentilor din anii terminali precum si absolventilor (licenta si masterat) din domeniul tehnologiei informatiei si digitalizarii. Parcurgerea fiecarui modul inseamna castigarea unui badge ce poate fi inserat atat in CV cat si profilului LinkedIn. Atos a capacitat cei mai buni lectori si experti in prezentari practice, use-cases to solve, analiza diverselor situatii si gasirea solutiilor optime.
Participantii vor trebui sa parcurga minimum 2 zile complete de curs pentru a primi un certificat/insignă de absolvire. (Ziua dedicata decarbonizarii este obligatorie)
Fiecare sesiune este compusa din cursuri, use cases pentru exersare si un quiz la final, care va determina daca participantul primeste certificatul pentru ziua respectiva sau nu.
Programul va fi urmatorul:
Luni:                     Data Intelligence, IoT and Edge
Marti:                   HPC and Quantum
Miercuri:             Cloud
Joi:                        Cybersecurity
Vineri:                  Decarbonization
In cadrul acestui Bootcamp, Romania va fi reprezentata de 4 speakeri: Razvan Ionascu (Digital Hybrid Cloud – Implementing an Hybrid Cloud), Oana Balasa (Cloud and Decarbonization – DLA), Milena Rauti (DHC Product Manager)si Gabriel Nitoi (Technical Engineer).
Deoarece ne bucuram sa impartasim valorile Atos, participantii vor primi insights despre Life at Atos, intr-o serie de conferinte dedicate precum:
🧑‍🤝‍🧑 Diversity, equity and inclusion (DE&I)
💡 Cultura si valorile Atos
📑 Corporate social responsibility (CSR)
✈️ Si alte subiecte de actualitate!
Atos este leader global in transformarea digitala cu peste 111,000 angajati si un revenue annual de € 11 billioane. Numarul 1 European in Cybersecurity, Cloud si high-performance computing, grupul ofera solutii personalizate end-to-end pentru toate industriile din peste 71 de tari. Atos este pionier in servicii si produse de decarbonizare, extinzand acest beneficiu clientilor sai. Atos este o SE (Societas Europaea), listata pe Euronext Paris si inclusa in indicii CAC 40 ESG si Next 20.
Pentru detalii si inregistrare, cei interesati pot accesa: https://bit.ly/39KPGde