Seminarii MATLAB – UPT TECH TALKS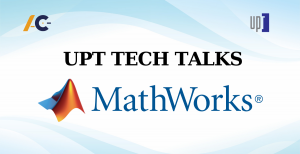 Universitatea Politehnica Timișoara și  MathWorks vă invită să participați la seria de seminarii online UPT TECH TALKS, în care vor fi abordate teme de mare interes ​pentru utilizatorii MATLAB. Subiectele vor descrie instrumente și bune practici în activitățile de predare​, dar și tematici de actualitate în cercetare: inteligența artificială, conducere autonomă, robotică.
Cele patru evenimente se vor desfășura după următorul program:
5  Octombrie 2021, ora 14.00: Teaching Online with MATLAB with Math Examples;
19 Octombrie 2021, ora 16.00: Research with MATLAB and Interoperability with Other Software;
2  Noiembrie 2021, ora 16.00: Artificial Intelligence using MATLAB with Application in Engineering;
16 Noiembrie 2021, ora 16.00: Autonomous Driving and Robotics with MATLAB.
Înregistrarea la cele patru seminarii se poate face accesând linkul:
Fișierul atașat conține invitația pentru primul eveniment​ programat în 5 Octombrie.
Vă așteptăm cu drag!