IEEE 16th International Symposium on Applied Computational Intelligence and Informatics, SACI 2022, Timisoara, Romania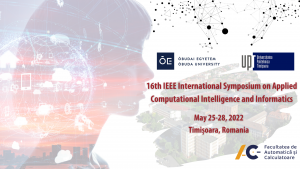 În perioada 25-28 mai 2022, la Facultatea de Automatică și Calculatoare din cadrul Universității Politehnica Timișoara, are loc cea de-a 16-a ediție a simpozionului internațional SACI 2022 (Symposium on Applied Computational Intelligence), un eveniment de anvergură organizat în comun de Universitatea Politehnica Timisoara și Obuda University, Budapesta, Ungaria.
Simpozionul SACI 2022 este inclus in programul manifestărilor științifice ale prestigiosului Institute of Electrical and Electronics Engineers (IEEE), SUA, și se desfășoară sub egida unui grup important de societăți si asociații, inclusiv IEEE Systems, Man, and Cybernetics Society (SMC) și cele două chapters SMC din România și Ungaria.
Edițiile anterioare ale simpozionului au fost găzduite de către Facultatea de Automatică şi Calculatoare în Timişoara, bucurându-se de o participare şi vizibilitate internaţională. Lucrările acestora sunt indexate în baza de date Clarivate Analytics Web of Science (cunoscută anterior ca ISI Proceedings), precum şi în alte baze ştiinţifice de date: IEEE Xplore şi Inspec, Scopus, DBLP.
Programul SACI 2022 poate fi consultat aici.
Organizatori:
Obuda University, Budapest, Hungary
Politehnica University of Timisoara, Romania
IEEE Chapter of SMC, Romania
Prezentări plenare şi invitate:
Mai multe detalii se găsesc pe site-ul conferinței.