UPT Quantum Hub
Data:

28-29 septembrie 2023

Locatie:

Facultatea de Automatică și Calculatoare, UPT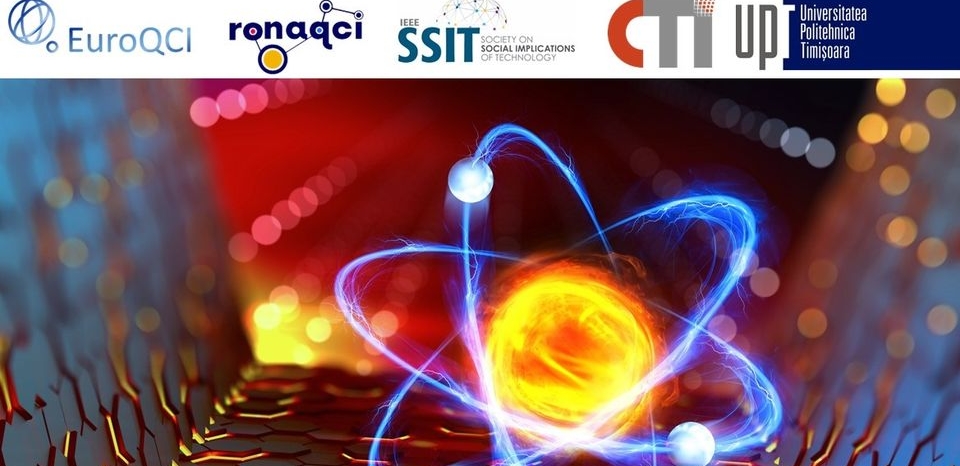 UPT Quantum Hub, organizat în premiera în cadrul proiectului național de cercetare RoNaQCI – Romanian National Quantum Communication Infrastructure.
Scopul primului eveniment UPT Quantum Hub este închegarea unui ecosistem Quantum în Timișoara. Dorim sa atragem cadre didactice, angajați din sectorul IT, studenți, masteranzi, și doctoranzi interesați de aceste noi tehnologii computaționale si de comunicație. Workshop-ul va consta într-o serie de prelegeri introductive, menite să trezească interesul pentru problemele științifice și tehnice pe care le implică tehnologiile Quantum. În acest sens, aducem speakeri din partea firmei Equal1, care dezvolta un procesor cuantic comercial, și din partea Universității Politehnica Timișoara, implicați în proiectul național RoNaQCI.
Programul propus este următorul:
Joi, 28 septembrie
14:00-15:00 Introduction to quantum computing: Key concepts and algorithms (Mihai Udrescu, UPT)
15:00-16:00 Quantum algorithm development in Qiskit (Sebastian Ardelean, UPT)
16:00-18:00 The physics of quantum computation (Elena Blokhina, Equal1)
Vineri, 29 septembrie
10:00-12:00 Computational complexity theory and quantum computing (Niall Murphy, Equal1)
12:00-14:00 Quantum communication applications (Bogdan Balazs, Atos)
Locația: Facultatea AC, UPT, Corpul Electro, Bulevardul Vasile Pârvan 2, Timișoara.
Sala: va fi anunțată în curând.
Accesul este liber.
Evenimentul este organizat la inițiativa Prof. Mihai Udrescu (UPT) și Valentin Mureșan (Faber), cu susținerea IEEE Society on Social Implications of Technology (SSIT), secțiunea România.