iTEC 2023
Data:

31 martie - 2 aprilie 2023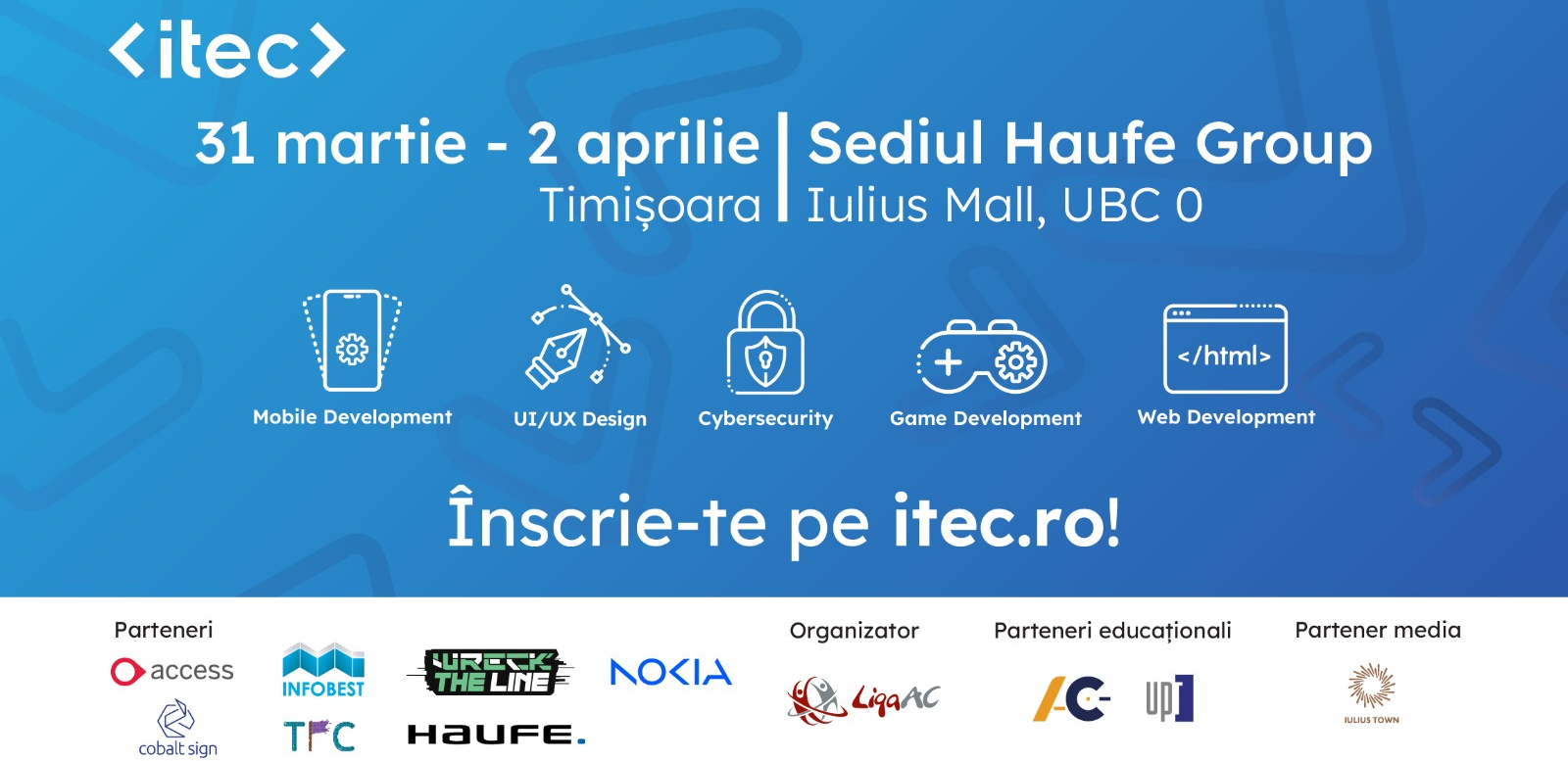 Ești o persoană competitivă căreia îi plac provocările? Ești pasionat de programare sau design grafic? Atunci iTEC este locul perfect în care îți poți arăta cunoștințele!
iTEC este un concurs dedicat atât studenților, cât și elevilor pasionați de domeniul IT. Ajuns la ediția cu numărul 16, concursul reunește în fiecare an peste 250 de participanți, aducând în contact mediul academic cu cel economic din acest domeniu prin intermediul companiilor partenere.
Scopul proiectului este acela de a crea un cadru ideal de competiţie la nivel naţional, oferind următoarele:
şansa de a concura cu elevi şi studenţi din toată ţara în vederea obţinerii unei diplome recunoscute la nivel naţional și a unui premiu material;
mediu propice dezvoltării competenţelor existente şi acumulării de noi cunoştinţe, având acces la opinia unor specialişti în domeniu;
şansa de a interacţiona direct cu companiile din sfera IT&C prin reprezentanţii acestora în cadrul competiţiei, dar şi cu alţi entuziaşti ai domeniului.
Probele la care te poți înscrie în acest an sunt:
Cybersecurity;
Game Development;
Web Development (secţiune de începători şi avansaţi);
Mobile Development;
UI/UX Design.
Ce mai aştepţi? Pe cont propriu sau împreună cu maxim 2 prieteni, ne întâlnim în perioada 31 martie-2 aprilie la Timișoara.
Grăbeşte-te, înscrierile pe https://itec.ro sunt deschise până în 17 martie!
Pentru mai multe detalii, ne poţi urmări pe reţelele de socializare https://linktr.ee/iTEC.ligaac.
Acest proiect este organizat de Liga AC în colaborare cu Facultatea de Automatică și Calculatoare, Universitatea Politehnica Timișoara alături de partenerii The Access Group, Haufe Group, Cobalt Sign, Wreck The Line și The Few Chosen.